Unbreakable Kimmy Schmidt Season 4 Episode 8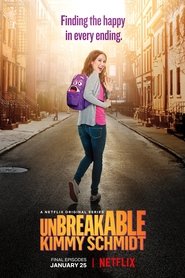 Unbreakable Kimmy Schmidt Season 4 Episode 8
Titus opens up about his encounter with Mr. Frumpus. Kimmy bonds with her date's parents and starts seeing them behind his back.
Serie: Unbreakable Kimmy Schmidt
Director: Jeff Richmond
Guest Star: Anney Ozar, Bill Barretta, Brian Silliman, Dan Byrd, Elise Mestichelli, James Monroe Iglehart, Joanna Gleason, Kenan Thompson, Lara MacLean, Mark Linn-Baker, Mike Carlsen, Niceto Darcey Festin, Owen Asztalos, Ronan Farrow, Terrence Mann
Episode Title: Kimmy is in a Love Square!
Air Date: 2019-01-25
Year: 2019